Saturday night and I needed to work on some writing. So I grabbed three cans out of my fridge.  Procrastination? Trying to generate positive energy? I'm not sure.  Take a look at these cans!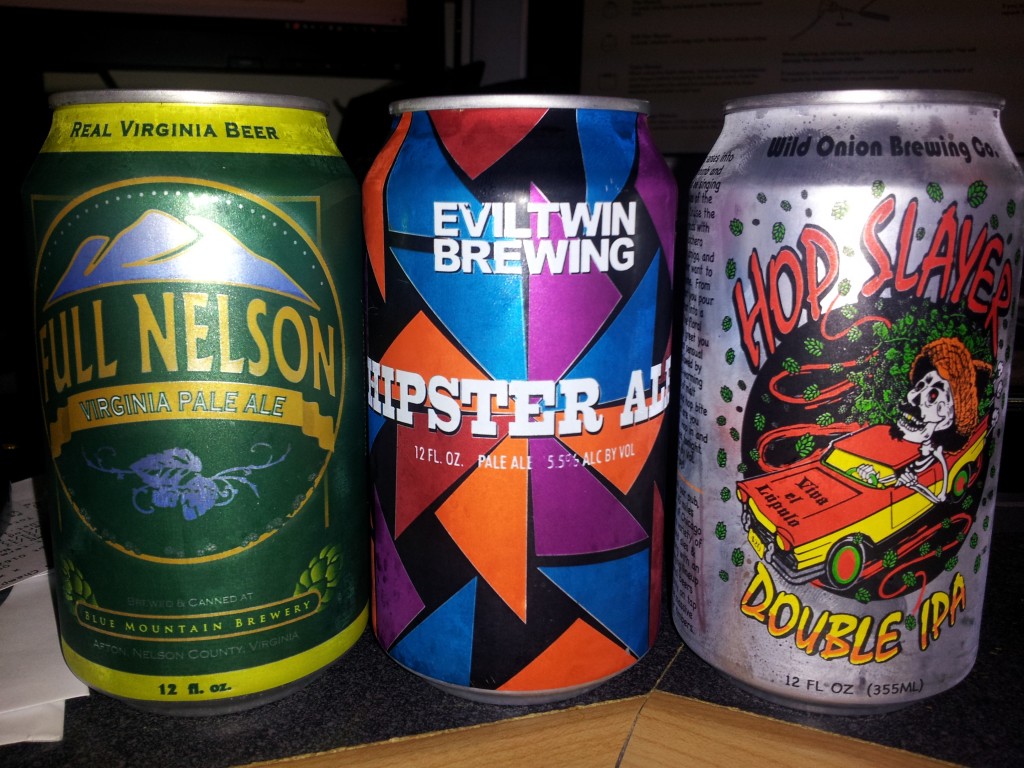 The first few Blue Mountain beers I tried were on draft.  I didn't like them.  I don't remember what styles they were.  THEN, something changed.  I tried a few more, and I liked 'em!  The most memorable is the aptly named, Full Nelson.  It grabs your palate and doesn't let go.  Unlike the wrestling move named after the British war-hero Admiral Horatio Nelson, this is a pleasant experience.   I had never seen any of the Blue Mountain beers in cans, so I had to grab this one.
Gnarlier than a pair of skinny jeans, edgier than a pair of thick framed glasses and with more twists than a handlebar mustache – it's Eviltwin's can of Hipster Ale.  This is the first canned beer for Jeppe Jarnit-Bjergsø's, Evil Twin Brewing.  It was hard to find a website, but apparently until recently, they were too hipster for that 'square' internet.  I like that the can mentions other hipster locations in the world.  Production of the beer is taking place at Westbrook in SC.  Could Charleston be the future Hipster Headquarters?  Only time will tell.  Unlike a bad hipster haircut or tongue in cheek iPhone cover, this tasty ale is as different and interesting as riding a fixed gear bike.  Errr what?  I liked it, but some friends didn't.  Go figure.
I had never heard of Wild Onion Brewing.  The can of Hop Slayer definitely grabbed my attention on a recent beer tasting trip to Philly.  A couple of sips made me wonder what I had.  I poured a bit of the hipster into a glass to see it's color.  I poured all of this disappointing double ipa into a glass.  With very little carbonation, this looked like it was more of a wort (the stuff that after fermentation, becomes beer).
During my testing of these cans, Cleopatra Jones was on Bounce.    I watch 'over the air digital' tv.  Bounce may be my new best friend.  Blaxploitation movies from my past, movies with the pleasure and surprise of a great dive bar…Alec Baldwin and Michael Jai White – were in a movie together?!??! "What kind of black man drives a Volvo? "  "A black man that appreciates safety."  Thick as Thieves has some pretty good quotes.  So does Black Dynamite, which plays tribute to some of the greatest.  Both are directed by Scott Sanders, but, fun fact;  White helped write Black Dynamite.  In Cleopatra Jones, the heroine drives a '73 Stingray.  When she parks the car in a seedy neighborhood, there is a memorable scene where a group of kids offer to watch her car.  When she returns they say they heard some 'weird buzzin' from inside.  Cleopatra replies, "Why that was my telephone." The kid remarks, "That's the first time I saw a telephone booth with mag wheels."  I wondered, Hollywood fantasy or possible reality?