Better is not always better.  Sometimes you gotta be wild.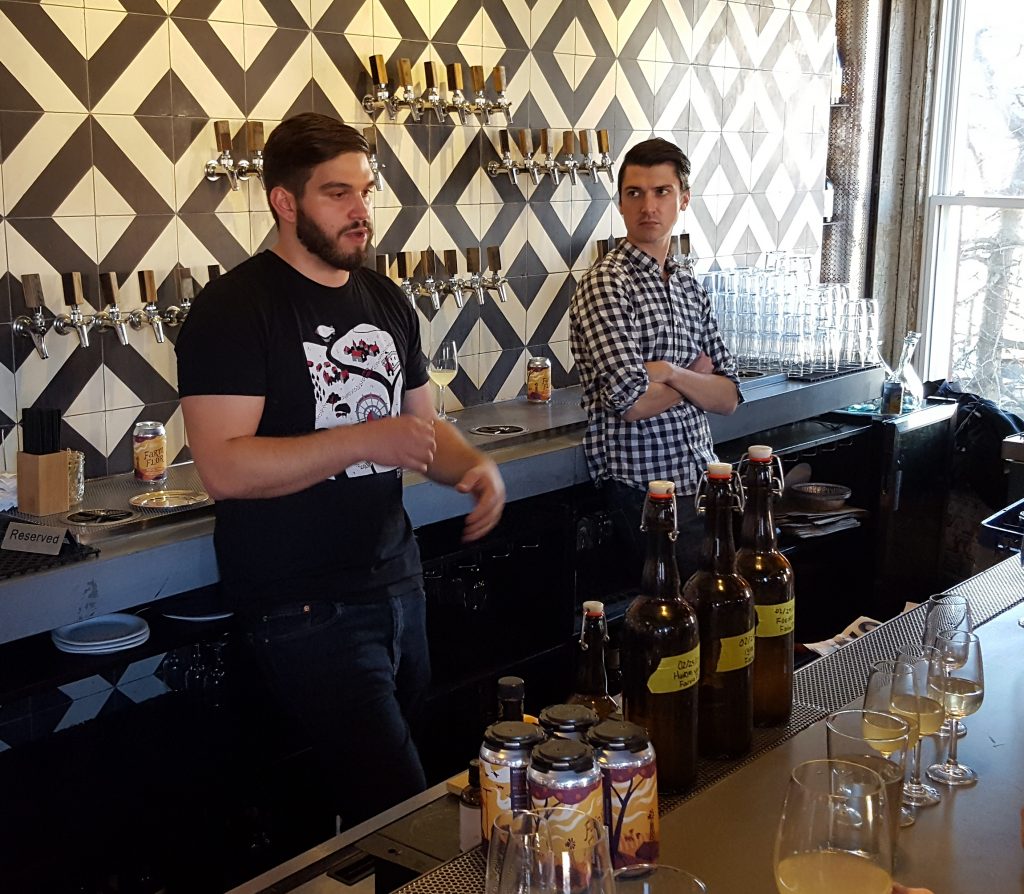 Think: painting or traveling or cooking.  Sometimes you want a stable, uneventful experience, but is that really fun?  Does that lead to amazing discoveries?  No.  That's what was reaffirmed as I heard Kyle Sherrer talk last Sunday about his work blending cider.
Anxo hosted a tasting of the deconstructed Farm Flor blend, as well as a sneak peak of the ANXO/Graft Collab Cider.  Starting in 2011, Kyle worked with his sister to found Millstone Cidery, outside of Baltimore.   They are now behind Graft Cidery.  It's a similar concept; locally sourced ingredients, unusual fermentation styles, but most important to note: available at a reduced cost by being packaged in cans and because of wild yeast fermentation methods Kyle is spearheading.  This is all going down in Newburgh, New York (about an hour north of the city).  That's where Kyle is sourcing dessert varietals (think of the apples you see at the grocery store) instead of the typical cider apples (names you've probably never heard of) that have less sweetness and are more tart.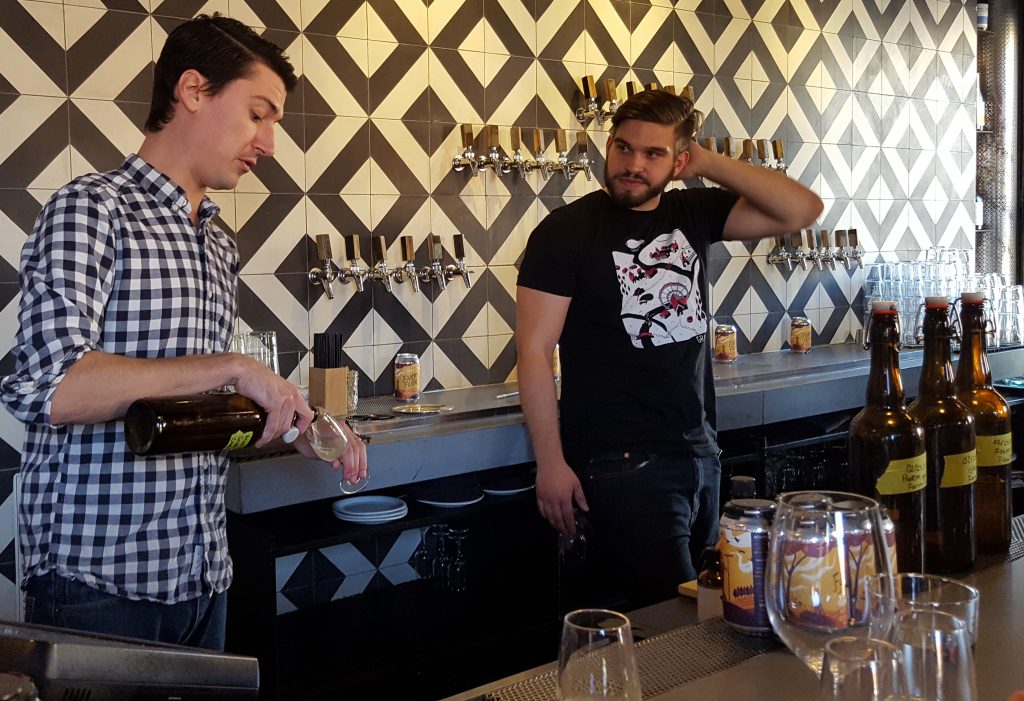 What is typically seen as better?  PROGRESS!  Homogenized production, need for constant sanitizing, monoculture (the cultivation of a single crop in a given area), doing what's safe and not leaving the box.  Enter:  WILD FERMENTATION.  Throwing all the fruit together, KNOWING that there's natural microscopic artists (microflaura bacteria) ready to paint the town and turn your apple juice upside down. Kyle explained this is, "Yeast driven cider."   Here we are talking about relying on the natural world to account for microflaura that is clinging to the skin of the fruit.  It battled hard to get there and it is ready to do its thing.
Sunday at Anxo I had the pleasure of tasting 3 unblended ciders.  Three batches of cider from different apples, fermented in different 'cooperage,' if that's the right term.  An igloo (or IBC, a big plastic barrel), a custom foeder (biiiig wooden barrel) and Hudson Valley oak.  These are different vessels where the apple juice gets busy with the yeast.
The three became one – what you see here: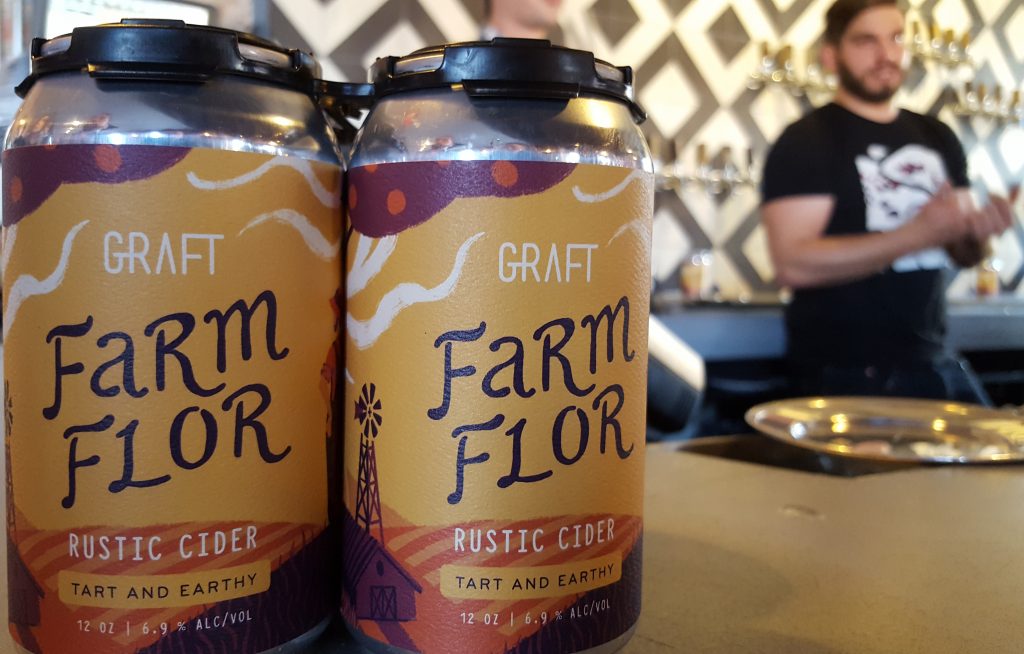 Blending is how you tame the wild b(y)east.  The name, Graft, refers to how apple trees are propagated (apples are *heterozygous) I think of the Michael Polin book and documentary, The Botany of Desire, how it tells the story of Johnny Appleseed. Barefooted wildman or wildly savy business man? He understood that new settlements would need a fermented drink (it wasn't an all day party, the water could kill ya!)  Paulo Coelho in The Alchemist, spinning straw into gold.
*Heterozygous: Their genetic makeup includes variations, or alleles, that combine randomly and cause significant differences from each apple's parents.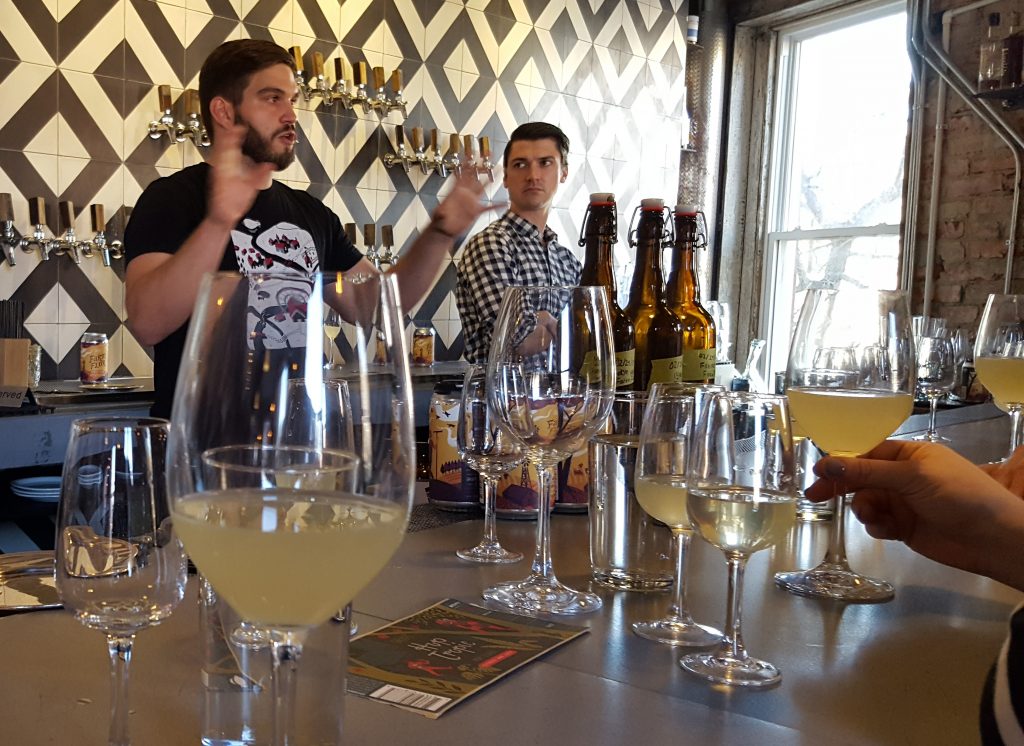 Sara the Soul Sistah.  Supportive and knowledgeable, her presence is reassuring.  The little sister who has dirt on her big brother, "I could tell you stories…"  A yang to the yin of her brother's driving force.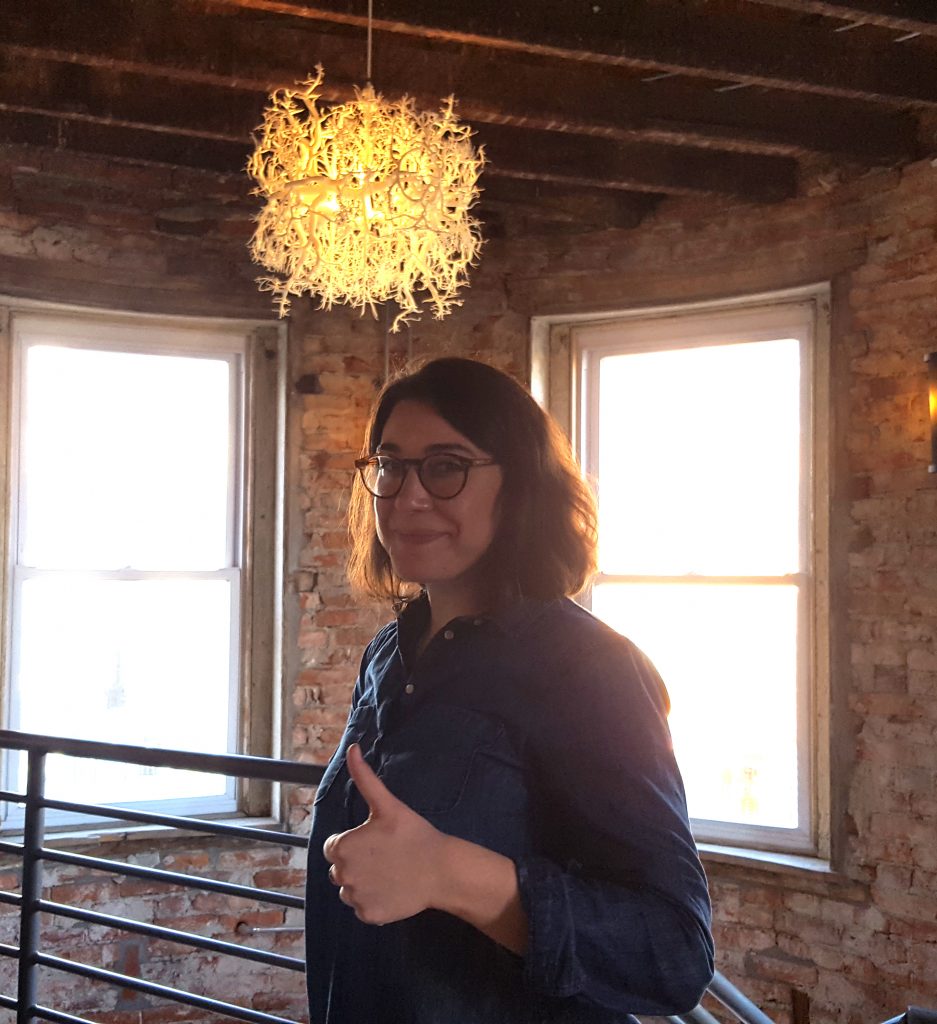 I work in a family business.  Family business can be…..a challenge, to put it mildly.
I'm looking forward to trying the finished product Anxo/Graft collaboration.  All of Anxo's collaboration ciders are WONDERFUL.  The happy hour is no joke either.  Half off 'pinxtos,' the delicious, small plates and these drinks: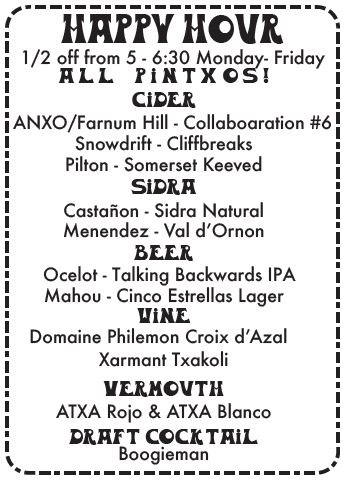 I went back to Anxo 3 times in 7 days and was pleased to see a quite a few menu items change.  Good to see that the kitchen is creative and updates the menu based on availability, but prepare for possible heartbreak (gone was the quail egg topped house preserved tuna).
ANXO Cidery & Pintxos Bar
300 Florida Avenue Northwest
Washington, DC 20001
Want to try some Graft and meet Sara?
Tasting Friday March 3rd from 6-10pm at Glen's Dupont
Look at these COOL LABELS!  Find Graft Cider cans in your fine grocery and specialty shops in MD and DC.  (VA has got to hop like a little bunny to get some)