One of my favorite events takes place at the
magic castle
aka
Churchkey.
  It's not really a castle, but you do have to climb a flight of stairs.  Oh and it's dark.  There's elaborate fabric riveted headboard furniture.  I think there's a chandelier.  It's made out of brick and there are lords of libations.
Ok, it's a castle.
And at this castle there is one night where ghastly ghoulish gose and sours take not pity on entrants of 14th st.  You might think it's a flash mob, but it's the haggard harlots who hustle pirates of profit from pushing policy.  Too K st?  back to the beer.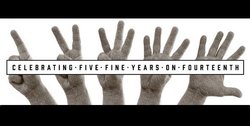 5th Anniversary Week of Events:  October 22nd –October 29th 2014
The 5 Year Keg Kickoff, October 22nd 2014
Prairie Artisan Ales – Funky Gold Mosaic
Prairie Artisan Ales – Cherry Funk
Prairie Artisan Ales – Birra
Prairie Artisan Ales – Prairie Hop
Brasserie de la Senne – Band of Brothers
Brasserie de la Senne – Taras Boulba
Brasserie de la Senne – Zinnebir
Avery Brewing Company – Rumpkin
Avery Brewing Company – Pump(KY)n
De Struise Brouwers – Pannepeut
De Struise Brouwers – Rye Triple Reserva: Bourbon Barrel-Aged
De Struise Brouwers – Sint Amatus 12
Oxbow Brewing Company – Farmhouse Pale Ale
Oxbow Brewing Company – Oxtoberfest
Maine Beer Company – MO
Maine Beer Company – Peeper
Pretty Things Beer & Ale Project – Jack D'Or
Founders – Harvest Ale 2014
Founders – Curmudgeon Vintage 2011
Founders – Bolt Cutter Vintage 2012
Upright – Barrel Konducta Volume #1
Gouden Carolus – Cuvee van de Keizer Blauw Vintage 2009
Mikkeller/Three Floyds Bla Spogelse
Churchkey had a week of events to celebrate 5 years of changing 14th St and changing people's minds about beer.  October 22nd 2009, DC got a vibrant castle of suds to rival any craft beer bar in the world.  I love that it was nothing like I thought it would be.  My only exposure to American craft and international brews were dusty old bottles that were 'affected,' 'wanna-be brasseries' and world beer bars that never had anything in stock. Churchkey shot for the moon, especially on the final event of their 5th Anniversary, Night of the Living Ales.
I really hope by this point you have the
Thriller bassline
playing in your heads.  No? 
Click here.
  Is there anything more visually succinct than the thriller dance?  Do you know why Michael Jackson made this video?  MJ saw American Werewolf in London and was down.  "Get me that director."  MJ wanted to bring back the American shorts.  John Landis was rolling on Animal House, Blues Brothers, Trading Places.   Had Michael Seen these?  Nope.  Just on that comedy/horror movie alone, he wanted to make the greatest music video of all time.
Creatures crawl in search of blood
To terrorize y'awl's neighbourhood
And whosoever shall be found
Without the soul for getting down
Must stand and face the hounds of hell
2nd story bar, what is that smell?
Ok, so that last line isn't part of the song.  It is a segue.  Just like you can't take your eyes off of a Michael Jackson video, it's impossible to fully contend with the flavors of sours on a night of mystery.  Like Michael said about special effects magician Rick Baker, "It's disgusting, but it's brilliant."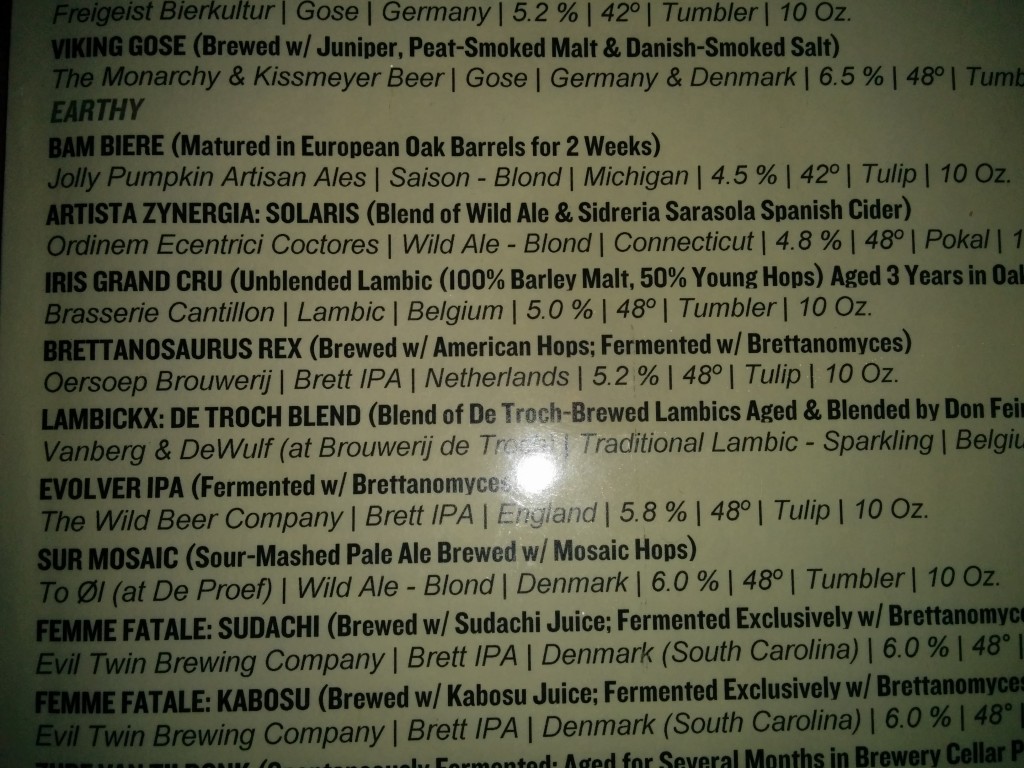 In my excitement, I cutoff my favorite beer of the night from the picture above.  Thank goodness 
I got a copy of the draft list.
Why not start there.  Just below Femme Fatale (what a name itself) is a super fun beer name.  I don't know how to explain what
Zure van Tildunk
does to your palate.  It has a transforming effect.
Can You Feel It?
  My favorite tasting sours remind me of finishing a popsickle.  It may sound strange, but as a kid, I distinctly remember reaching the stick (and sometime chewing on it) after finishing the fruit flavored ice.  Zure van Tildunk had all the tart, sour and funky qualities I was looking for.   After ordering the cheese and bread plate, the beer had a crazy effect. Something like a rack focus in a movie.  Better example is a dolly zoom.  Sometime called the
Jaws effect
, in film, when zooming out while moving towards the subject, it looks like
the background changes
.   The food paired with the beer exquisitely.  I enjoyed maple walnut chutney with fresh fig and mixed cheeses and an assortment of crackers, toast and bread.  As I ate, the beer's nose of sweet hay and fruit condenses on your tongue as the sides of your cheeks are pulled inward by the sourness.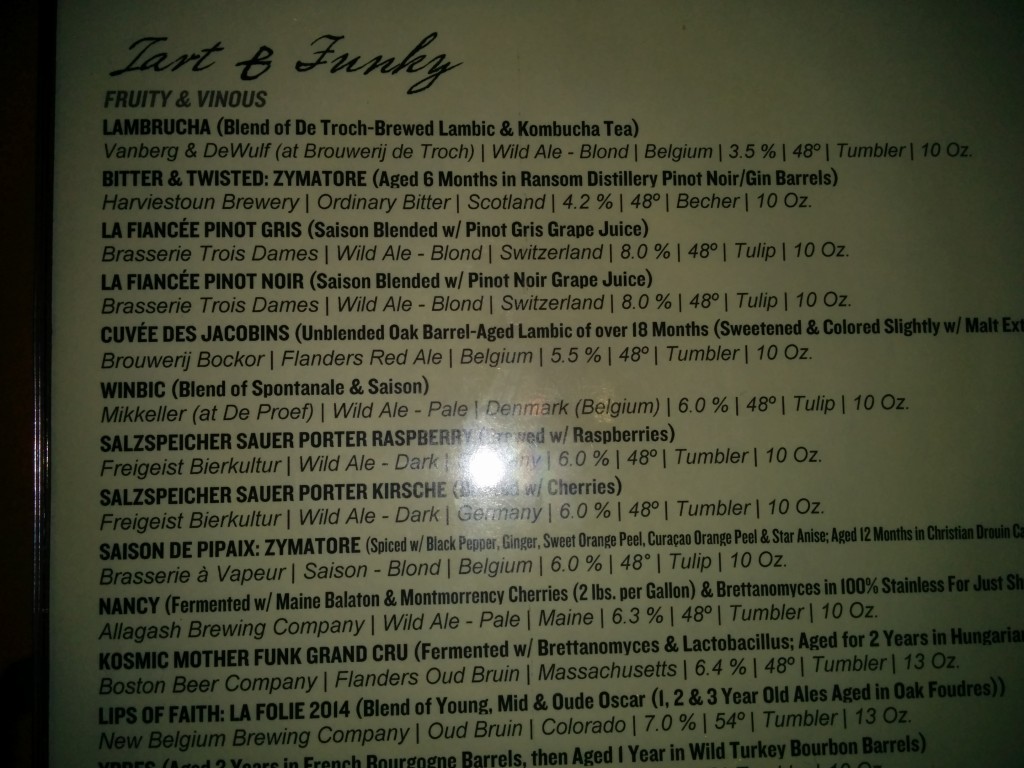 Lambrucha was great.  Kombucha and lambic?  Duh!  I remember specifically liking one of the Salzspeichers more.  I think it was raspberry.  Who knows?  Like I'll ever see them again!  If I do, I wouldn't mind repeating the taste test.
Besides being fun to say, Bla Spogelese is a super solid beer.  Who knew blueberries and oak barrels could be so happy together?
Spontan elderflower . Beautiful cheekiness.  Mikeller has quite a few Spontan-something-somethings  Right now Rustico Arlington has Spontanrosehip.  Not to be confused with the mothership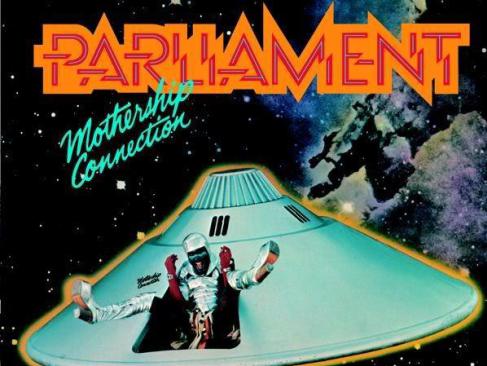 Following the event, it was nice to see some of the beers available at Rustico in VA.  I really enjoyed (another fun name) Artista Zynergia: Solaris.  Sounds like an excerpt from MTV Italia in the 80's, right?  You'd never guess you were drinking beer mixed with cider.