I find it strange that the editor in chief of Wine Spectator who ordered 12 copies of my dad's book in 1990 has never printed the title, The Gourmet Guide to Cigars, anywhere in Cigar Aficionado in the last 20 years of publication.  How do I know it's been 20 years?  Well, because they called my dad for an interview for their 20th Anniversary Special Edition.  They requested a portrait and conducted a 30 minute over-the-phone interview.  The interview mostly covered what the premium cigar industry was like before the magazine launched and after it's publication.  Interesting interview?  You'll never know, because there's no picture of Paul Garmirian or mention of his name in the issue.    What gives?
There's no doubt that the over sized magazine, with it's glossy pages and movie stars on the covers elevated the perception of cigar smoking.  The 'boom,' followed its publication in 1992, as cigars were rediscovered by Americans.  Popularity of cigars soared.  Much like the other 'bubbles' we've faced recently, many thought that this was the new norm and that this surge in cigar smoking would maintain or only keep growing.  Sound familiar?  Consumers grew wary of the new brands of mediocre quality that were being thrust before them by retailers who were more focused on the newest, latest cigar brand.  Major brands opened in every conceivable location whether golf course, or yes, gas station.   The eye dropper method of distribution began where cigar boxes were limited and rationing of cigars began.  Cigar shop employees adopted a callous disregard for service as their position became more like doorman at a hot club and less of a tobacconist.  Unfortunately, the party had it's first casualty with California's Proposition 10 in 1998.  Maybe someone got the idea that cigar smokers actually drove the cars and wore the watches featured in the magazine (while some do, I'm going to guess that many do not) and therefore could stomach more taxes.  It was actually a cigarette tax that someone had the bright idea of expanding disproportionately to cigars.  The law included a floor tax.  Many shops couldn't afford to retroactively pay tax on existing inventory and closed down.
If you look at the magazine cover now, Aficionado is about 8 times the size of the word cigar.  It used to be the other way around.
In 1994, one of our computer programmer friends did a statistical analysis of the correlation between advertising and cigar ratings.  It's not what you'd think.  It showed that while advertising affected ratings by an average of 3.2 points, price played a greater role by adding 5 points to a $4 cigar and subtracting 5 points from an $8 cigar.  A decent cigar at $4 was rated higher than a great cigar at $8.  The info was outlined in a 12 page document and was shared with one of the magazine's executives.   Shortly thereafter, the Cigar Insider produced the price value factor guide/chart to justify their rating system.  What better way to make a guy feel great than to show him yachts and sports cars and tell him that the cigar in his price range is the tops?
Know what else is weird?  The magazine did a father and son story a few years back.  It ran over 2 issues.  No mention of me or my father.  That's fair; I have only worked with my dad since I was 12 and visited tobacco shops from the age of 6 months old (in a stroller).  I helped him ship his books when he started in 1990.   I inspected cigars with him to the tune of about a half million cigars in total. (In the first 5 years, from 1990 to 1995 my father and I inspected every box of PG cigars.  We opened the boxes and removed each cigar as a secondary quality control using 5 criteria.)  Continuing to work summers and part time through high school and college, in 1996 I visited the factory for a week.  In 1998, I joined Paul Garmirian Inc. full time and in 2000 spent a month interning at the factory that makes PGs.   I've been to 23 RTDA/IPCPR trade shows.
A little respect please.  The pen is far mightier than the sword and disrespect should never be tolerated.  About 4 years ago, we were approached to advertise.  $26,000/page with the recommendation of running consecutively for 4 issues.  If it aint broke, don't fix it.  If you are a young company, watch out.  When the magazine started, we were approached to advertise.  At the time my father was, for the most part, working by himself, with some help in shipping orders.  We were selling out of cigars as soon as we received them.
It's no doubt that getting cigar of the year is a big boon for your business.  Sales soar and the effects can last for years.  But you have to be a loyal advertiser for years before it will happen.  The basis isn't quality as much as it is status.
It is great that they mention retailers especially David Berkebile of Georgetown Tobacco.  When I was 6 months old in a stroller, that was the store that we most often visited.  I would accompany my dad to trips to Georgetown.   I would go around the city to shops, inevitably the punk rock music store, comic book store and ice cream shop before returning to watch the goings on in one of the countries best tobacco shops.  What I watched at that shop had a profound influence on my frame of reference for cigar smoking.   I remember one year when we spent 48 out of 52 weekends visiting Georgetown Tobacco to gather information that ended up in The Gourmet Guide to Cigars and later to promote PG and interact with customers.
Now that I have my own shop and continue to work with my dad with PG cigars, I've been hoping to find my voice on this blog, as it pertains to cigars.  I mostly write about beer, but haven't felt comfortable talking about cigars, manufacturing and the industry in general.  I felt a need to write about this topic tonight as I know we've surpassed the tipping point.  I think the montage I did for our last trade show is the best way to end.  If a picture is 1000 words then this should be worth  26,000.  I thought it would be interesting to tell a story about my dad that most people don't know using pictures.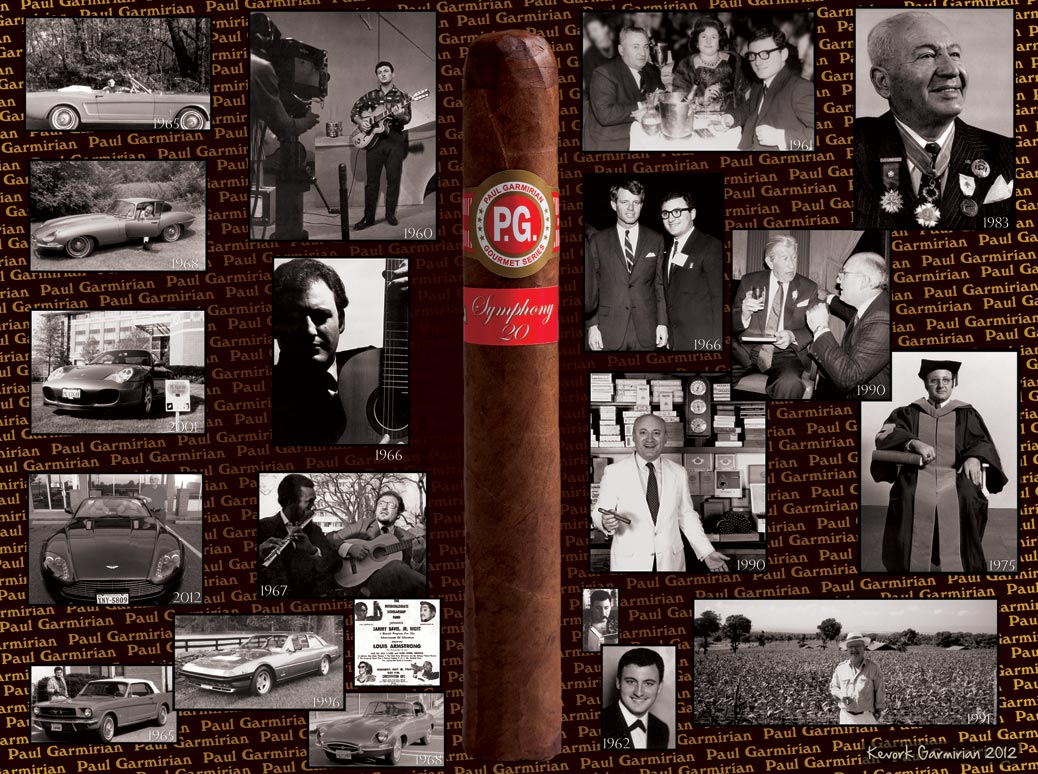 When I showed this post to my dad before publishing it, I had no idea what he'd think.  We talked about a lot of interesting things, but what was paramount is that he told me that he, "wears the absence of being mentioned in the magazine as a badge of honor."