What's more fun than a Soul Train dance line?  An impromptu breakdancing circle?  Finding $20 on the street?  Going to pickup your tv at Best Buy that you bought online for instore pickup and finding out that they just gave it to some random by accident?  (Read: Screw you Best Buy)  NO!  Festivus at Rustico is the bees knees!  This was a two night celebration leading up to the Festivus holiday on December 23rd.   2 nights at 2 locations, all Rustico, full of Festivus miracles.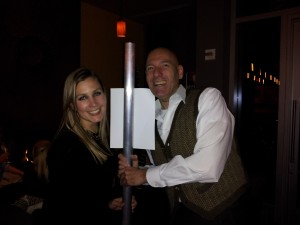 Festivus pole.  Check.  Friends with whom to air grievances at the Festivus pole, check.  Friends to show off feats of strength.  Check.  Beers.  Check.  Wigs.  I said, wigs…… ok 4 out of 5 is a good show.
I had not been to a Festivus event before.  It was explained to me that there is no tree, there is a Festivus Pole.  You may air your grievances at the pole.  Feats of strength are also performed.  Almost getting thrown out is a pretty good feeling.  I met a good group of people who attended both nights.  1st night, Arlington. 2nd night, Alexandria.  The pull towards going both nights was, "walk away with nice stuff like Rustico gift cards, a full ride to our Beer Academy with Greg Engert or hand-picked rarities from our holiday stash."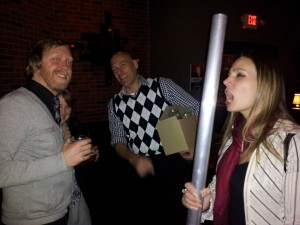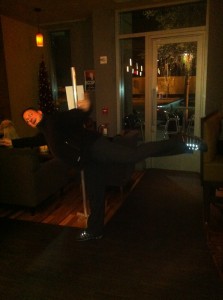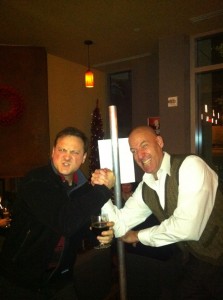 Mr. Couple Number 1,  (yelling) – "Air your grievances, perform feats of strength.  Come on over to the pole."
Manager, "You know, some people are trying to enjoy their dinner. "
Good to see an old schoolmate, Bernard 'Bernie' from Old Dominion fame, now with Lagunitas, the brewery responsible for Holiday Sucks.  Even before I saw him I was talking it up and getting feedback from the crowd.  Lagunitas Sucks Holiday Ale; the tagline could be, "Everybody liked that beer."
It was good to come together and make friends over beers.  I learned some Polish, ran through the kitchen, drank the boot, and saw the Spirit of Sales Receipts Lost.  It felt good to shout at the pole about baggage fees and gas surcharges.  Not to make it all about the Euros, I also shouted that bitches who have gone incommunicado need to stay that way.
Peace to all and raise a glass to the latest cause celebre.
Below are details from the events.  If you are reading the fine print, You Are a Beer Geek.  High five!
Behold Festivus! Our Holiday Beer Bash Starts Monday
Two Nights of Hoppy Fun | 24 Beers In All
Come By Both Parties & Get Cool Prizes

Our annual celebration of good tidings and cheer returns to Rustico with more seasonal suds than ever. Beer Director Greg Engert has lined up 24 fun and festive holiday ales, many debuting for the first time at Festivus. He's begged, borrowed, and likely stolen, to bring in the best holiday craft beers from all over the globe. Come on out next week and sample your way through this stellar line-up of joyful brews. 
Night one kicks off
Monday, December 19
in Ballston and we will be pouring:
The Bruery 4 Calling Birds (Draft & Cask!) • Mikkeller Santa's Little Helper • Schlafly Christmas Ale • Corsendonk Christmas Ale • Brasserie des Géants Noël des Géants • New Holland Cabin Fever • Ridgeway Very Bad Elf • New Belgium Snow Day • Einbecker Winter-Bock • Great Divide Hibernation Ale • Oppigårds Winter Ale • St. Bernardus Christmas Ale
On Tuesday, Festivus moves to Alexandria where we'll open up another batch of seasonal stars and hand out free glassware, as follows: 
Lagunitas Sucks Holiday Ale / Glassware: Mason Jars • Ommegang Adoration / Glassware: Chalices • Nøgne Ø Winter Ale • Tröegs Mad Elf Holiday Ale / Glassware: Goblets • Bell's Christmas Ale / Glassware: Pint Glasses • Ridgeway Bad Elf • Port City Tidings / Glassware: Pint Glasses • Mahr's Christmas Bock • Lost Rhino Rhinoel / Glassware: Pint Glasses • Scaldis Noël • Delirium Noël / Glassware: Goblets • Sierra Nevada Celebration / Glassware: Pint Glasses
Notice there are no duplicate beers between the two events? Come to both, get your Festivus Badge, and you'll likely walk away with nice stuff like Rustico gift cards, a full ride to our Beer Academy with Greg Engert or hand-picked rarities from our holiday stash. Here's to a Hoppy Festivus!
Details: Festivus at Rustico in Ballston on December 19 and Alexandria on December 20. Both events begin at 6 p.m. and beers will be priced by full pours. No entry fee.