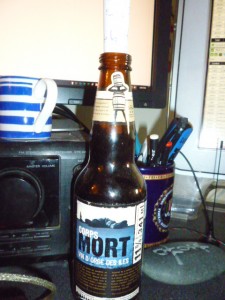 All Souls' Day or Día de los Muertos is November 2nd. I decided today was the day to post this appropriately named beer from this Microbrasserie.
Corps Mort vin d'orge des iles, tastes less like its name [-translation- Dead Body] and more like warm butter and brown sugar, like an apple compote.  It is named for a solitary rocky outcrop of the coast of the Quebec Islands.  I can't tell if it's a joke that the label reads, "May contain traces of smoked herring!"  As I read more of the label, I realize it's no joke as the grains are smoked [that kinda sounded like hip hop lyrics] at Fumoir D'Anton – translation- Antan's House of Smoked Herring, not to be confused with Stairway of Heaven played backwards which reveals, "Here's to my Sweet SATAN."  This beer was consumed at Rustico with notes taken on an order pad, scrolled up and tucked inside the bottle for later analysis.  (message in a bottle – give it a moment) I did make sure that the paper was longer than the bottle so no tweezers would be needed for note extraction.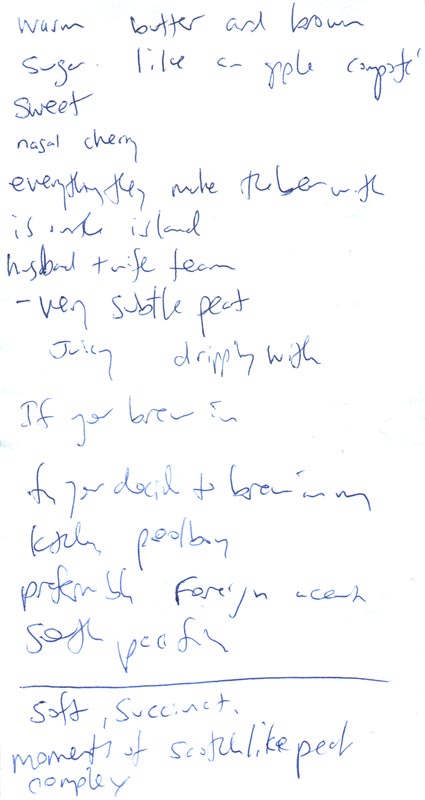 Somehow we got on the topic of this beer (as topics are reached at bars…who knows how) meeting unexpectedly for indulgent Sunday beers and snacks.  A charming Irishman pointed it out and may have bought it for me, insisting I try it (-hey, what WAS going on there…?)  I tasted sweet, nasal cherry as it was explained to me that a husband and wife team brewed this beer with ingredients only from the island: the Rocky island called "Le Corps Mort" (the dead body) on the west side of the main islands of Quebec.  A play on words allows for this to also refer to a buoy, which looks a little like a message in a bottle.  We come full circle.  Or maybe just a cresent.    If you want a better look at the island check out this awesome link.  Go Canada.
Very subtle peat.  Juicy, dripping with flavor.
Misheard quote of the day, "If you decide to brew in my kitchen, poolboy." Presumably foreign accent, possibly from the south pacific?  I wasn't the only one who heard it.  Notes degrade as 11% begins to attack the sound judgement and sense making areas of brain. Handwriting degrades. Speech slurs. Slight hunger. Desire to get a nibble at the end of the bar.  Note the young woman a few seats away.  Blood begins pounding inside my head. Hunger swells. Desire to nibble on girl at end of bar. Cheering at the game on tv becomes more moaning with gasps in-between. Looks from other bar patrons. Desire to bite the girl at the end of the bar.  Self check.  Sudden notice of their hats or hatless heads. Desire to inspect their heads for signs of ripe delicious brains inside. Approaching girl to get her number, so I can chew on her soft grey brain later.  Sun-Day of the Dead.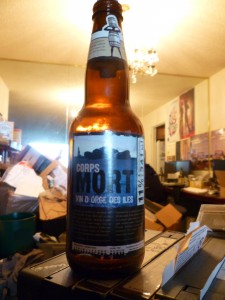 This is a barley wine made with smoked malt from a small brewery called A l'abri de la Tempete, in l'Etang-du-Nord, Quebec.
You know I could take better pictures…..Well, I could do a lot of things.