Hot Sauce to be exact. With this post I'm breaking my silence of the last few months.  I'm hoping for more posts, more often.  I've got a few monsters ready to post.  Big stories that will probably end up being multi-parters.  Lots of pics, charts, graphs, experts weighing in; lots of experimental data to sift through…you know how it is.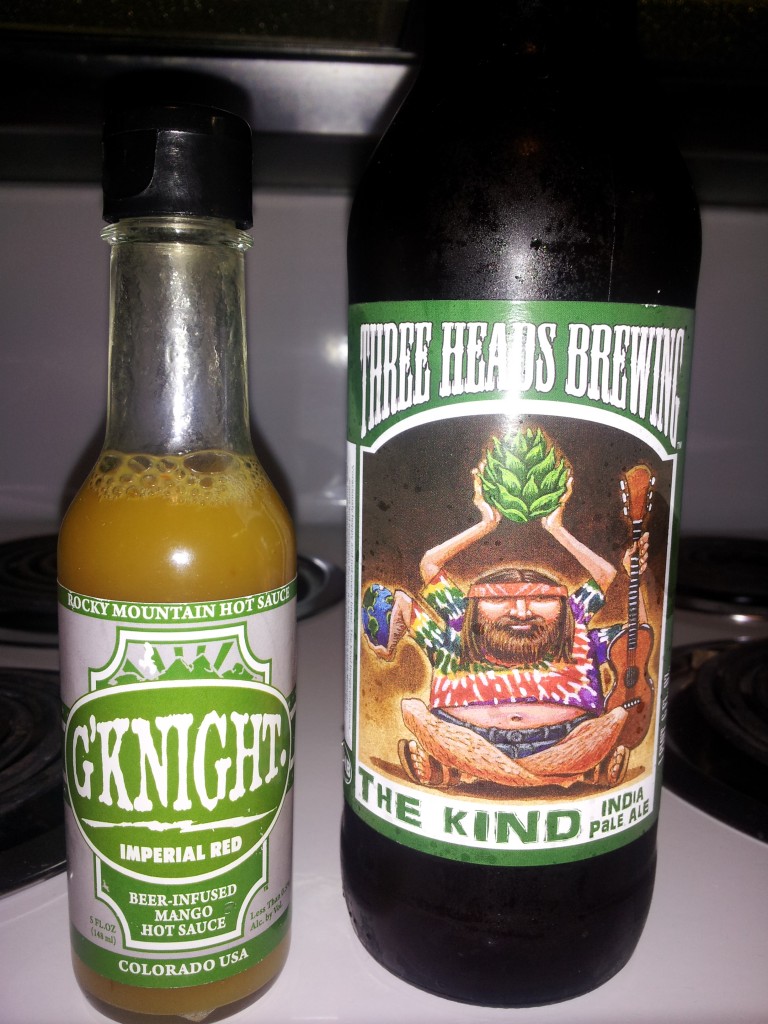 Saying that I was reluctant to pull 'The Kind' off the shelf is an understatement. This dude looks and probably smells unappealing, but that voluminous hop above his head is really all that matters, now isn't it?  He's probably going to ask you for something. " Dude, got a light?" "Yo can I get a ride?" "Hey, can you hold this for a minute?" Three Heads Kind smells like good memories.  Sniff test = Founders Double Trouble, Weyerbacher Double Simcoe and other enjoyable Imperial IPAs.  Note: Founders All Day IPA was at Savor.  Good stuff.  Looking forward to it around 2013, according to the rep.  There was a guttural element to The Kind, that I was not a fan of.  Good, not great.  Interesting, so I will check out another of their beers, but I hope I'll see it on tap.  Bringing home the 22 is always such a personal affair.
Now to the good stuff.  G'Night Hot Sauce is something I picked up at the summer NoVa Brewfest.  This is stuff is REALLY good.  I've been putting it on everything!@ YES EVERYTHING!  My Atari 2600, hummos, old Peter Gabriel cds and I've been chasing women around my apt.  It has this infused mango sweetness that gives way to a subtle lasting heat.  So nice.
Recommended listening material while reading this post?  Why not exactly what I heard when writing it?  'Girlfriend is Better' by Talking Heads.  "Stop Making Sense."  Oh and speaking of cool, what do you use when your lips are chapped?
"When the out of doors has done a number on my pucker parts, I reach for OLD CHUB stick."