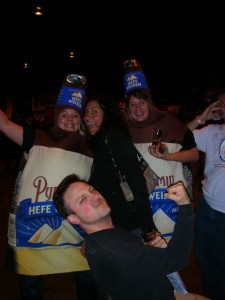 Ok, so here's the story with the hundred or so postings from 5 years ago.  My buddy Andy got me to write for a beer blog called Tap Room Talk.  The ultimate goal, I would later find out, was to get beer sent to our 'headquarters.'  Forget that it is illegal, improbable or just never happens.  We went on reviewing, writing and pondering.
I had known Andy since grade school.  From bb guns to girls to our first beers; we were buds.  After college, we found that craft beer was something we both appreciated.  We started attending beer dinners and, as I clearly remember at one of the beer dinners,  ridiculed a guy with a pad and paper, taking notes.  A year later we were that guy.
After over 100 posts, we never did get a drop of beer or even any stickers, t-shirts or so much as a beer cozy.  What we did get was an appreciation for good beer.  It became challenging to creatively describe beer after beer.  But then your palate develops.  You start paying attention to more details.   In the end, it was a fantastic time for me, engaging in, learning about, and enjoying this passion.  When the site (Tap Room Talk) got hacked it was devastating.  We ended up homebrewing for about a year and a half.  I kept writing, taking notes and researching.  When I built up a good amount of information, I followed my need to critique and created The Smoking Bulldog.  Little did I know that the Tap Room Talk blog was creepily nestled away on some server as part of the Internet Archive.  It goes to show you, once you hit 'send' or 'post' it's out there forever.  Watch out how much you drink.  These days, a picture could go up on the internet and be halfway around the world before you leave the bar.  Or in this case, watch out what you write.  Some 13 year old hacker could replace your beer blog with the promise of naked pictures of Jennifer Aniston, only for you to later find your blog, somewhat tattered and with coffee grains and eggshells all over it, but still good enough to repost and show around to your friends.