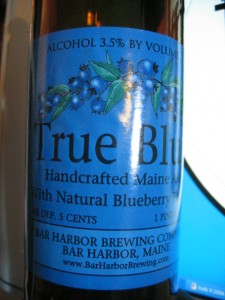 November 19th, 2006 by Kevork
Released in June 1986, True Blue was Madonna's third album. More importantly, it is a seasonal beer from Bar Harbor Brewing Company. With a smell of fresh blueberry pie, I was suprised by this ale's crisp taste. I was expecting overwhelming blueberries, but it's a delicious, well balanced brew.
True Blue didn't leave my tongue a dark shade of azul like I expected. In fact, it looks more like a brown ale. Enjoying blue raspberry slurpee (or razzleberry if you will) as I do, this wouldn't have presented a problem. Light and balanced, with ever the littlest bit of tartness, True Blue won't give you a case of the blues, however it may leave others green with envy. Green with envy of your delightful pint. Ok, I'll stop with the color jokes or else you might turn red in the face.